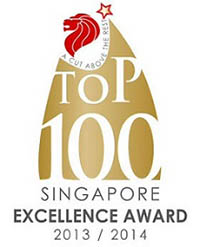 Epi Treatz is proud to receive the prestigious business accolade, Singapore Excellence Award 2013/2014, for being the entrepreneurial elite in Singapore.
As one of the many successful Small Medium Enterprises', it is recognized for demonstrating exceptional accomplishments and excellence in business value of its products and services, organized management systems and processes and delivering outstanding level of customer satisfaction to its valuable customers.
We will continue to aspire and achieve greater success in our entrepreneurial journey with our valuable customers, simply because we believe "Only The Best Is Good Enough For You".
Epi Treatz is proud to receive another prestigious business accolade, Asia Excellence Award 2014, for achieving excellence, integrity and exceptional accomplishments in Asia business field.
It is recognized for the entrepreneurial spirit of excellence in management and processes, high efficacy and business value in products and services, conducive environment and unparalleled customer experience to its valued customers in Asia.
A big "Thank You" to all our valued customers in Asia who have journeyed with us through the years and making this possible.